By Stockton
The Most Valuable Player Award is perhaps the most prestigious annual award in Baseball. The award is presented by the Baseball Writers Association of America to the player who is "most valuable". The term "most valuable" is a term of art. There is no formula to determine value or which player possess the most value in any given year. The award has been given to immortals (Gehrig, Foxx, DiMaggio, Berra, Williams, Mays) and mortals (Burroughs, Versalles, Baylor) alike.
Sometimes the award goes to the person with the most impressive statistics, other times to a very good player on a team that finishes in first place. The voting is conducted before the post season so playoff and World Series performance do not influence the outcome. Until Barry Bonds, no player had won more than three MVPs. There appears to have been an unwritten rule prohibiting a fourth MVP. You might ask: "Did anyone before Bonds deserve a fourth MVP?" I believe the answer to that question is a resounding yes.
Red Sox rightfielder Jackie Jensen was the American League MVP in 1958. Jensen received nine first-place votes. Jensen had a great year for the Red Sox.*
G - 154
AB - 548
R - 83
H - 157
2B - 31 (5)
HR - 35 (5)
RBI -
122
(1)
SB - 9 (9)
CS - 4
BB - 99 (2)
K - 65
BA - .286
OB% - .396 (5)
SLG - .535 (6)
TB - 293 (5)
RC - 116 (3)
PA - 655
Outs - 413
* bold = league leader
parenthesis= rank if in top ten
Mickey Mantle also put in a fine performance in the '58 campaign.
G - 150
AB - 519
R -
127
(1)
H - 158 (10)
2B - 21
HR -
42
(1)
RBI - 97 (5)
SB - 18 (4)
CS - 3
BB -
129
(1)
K - 120
BA - .304 (7)
OB% - .443 (2)
SLG - .592 (3)
TB -
307
(1)
RC -
136
(1)
PA - 654
Outs - 379
Mantle received no first place votes.
The nice thing about comparing MVP candidates is that you're looking at two players in the same league, in the same year. This simplifies the comparisons because outside of their home field, the same conditions exist for both players. Here, Jensen and Mantle were kind enough to also have almost the exact same number of plate appearances. Thus, they had the same number of opportunities.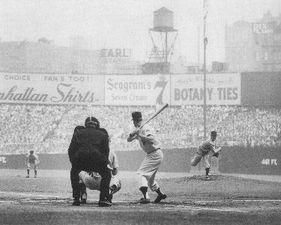 Mickey Mantle, a fourth MVP?
Mantle exceeds Jensen in almost every positive category with the exceptions of doubles and Runs Batted In. Since Mantle beats Jensen in Total Bases, I won't worry about the doubles.
Jensen had 25 more RBI's than Mantle. That is significant. One job of a power hitter is to drive in runs. Mantle, and that year Jensen, were power hitters. However, Jensen played half his games in Fenway Park, a hitters park. Mantle played half his games in a pitchers park.
In 1958 the Yankees won 92 games and captured the pennant with ten games to spare. If you look at Mantle's team that year, he was the offensive force. Mantle lead the Yankees in every offensive category except doubles (he was second with 21, Skowron and Bauer had 22).
Mantle also played in 150 games. The Yankees must have been plagued with injuries that year because no starting player played in more than 138 games other than Mantle. Other than Berra (and Mantle of course), no Yankee had more than 73 RBI's. Only Norm Siebern hit over .300 and four starters hit under .270. It was not a great offensive year for the Yankees. It's safe to say, without Mantle, the Yankees would not have won 92 games. They may not have won the pennant.
Using the simple Runs Created formula, Mantle created 20 more runs than Jensen while Jensen made 34 more outs. Mantle hit into fewer doubleplays, stole twice as many bases and was thrown out less than Jensen. Mantle's On Base percentage was .443, .47 points greater than Jensen's.
Jensen was a fine player, a good hitter, fast runner and excellent fielder. I don't want to take anything away from him, except the '58 MVP. Mantle was easily the best player on the best team. He was also a very good defensive player and one of the fastest players in baseball. Boston finished third that year, thirteen games out of first. Jensen did not lead his team to victory.
Ask yourself this: How much would Jensen have helped the Yankees in 1958? How much would Mantle have helped any team in 1958?
How does the best player, on the best team, fail to win the MVP. Well, I suppose a team could be so nicely balanced that it is filled with good players, with no particular player rising much above his teammates. Clearly, that is not the 1958 Yankees.
I think the answer is simple and says more about human nature than it does about baseball. The Yankees had dominated the MVP award up until 1958:
1950 - Rizzuto
1951 - Berra
1954 - Berra
1955 - Berra
1956 - Mantle
1957 - Mantle
I think the Baseball Writers Association of America was simply tired of giving the award to a Yankee. They certainly didn't want one particular Yankee winning three years in a row. The gave the award to a good player with the most RBI's. As an aside, Jensen's career was cut short because he was deathly afraid of flying. Rather than fly, he quit baseball.
I'll let you in on a little secret: Mantle was probably the best player in 1955 as well.