By Stockton
This is Part II of an article on the 1906 Chicago Cubs.
Part I can be found here
.
Who were the players that made the 1906 Chicago Cubs one of the greatest teams ever? We'll start with their infield and their leader.
FRANK CHANCE - FIRST BASE/MANAGER
Frank Chance, the Peerless Leader, was the player- manager of the Cubs. He was, by all accounts, an excellent defensive player, a fast, smart baserunner, a good hitter and a fiery competitor. In 1906, Chance played in 136 games, the most ever in his career. He was in the top ten in every major offensive category (ranking for the year in parenthesis).
H - 151 (10)
R -
103
(1)
2B- 24 (6)
3B- 10 (7)
HR- 3 (8)
RBI - 71 (5)
BB - 70 (7)
SB -
57
(1)
AVG - .319 (5)
OB% - .419 (3)
On top of an outstanding performance, Chance managed a sometimes volatile team to the best winning percentage ever in Major League Baseball.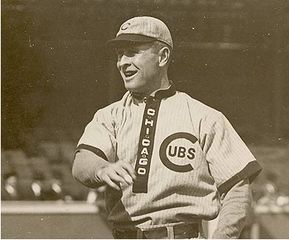 "Chance was born to battle on the baseball field"
- Johnny Evers
JOHNNY EVERS - SECOND BASE
Nicknamed The Human Crab, Evers is almost always described as "a bundle of nerves" and "smart". The Cubs second baseman was a scrappy, volatile player who enjoyed fighting on the field with opposing players and his own teammates. Evers even stopped talking to shortstop Joe Tinker for years in a dispute over cab fare.
Chance thought Evers was a great player but wished he played the outfield so he wouldn't have to listen to him. Aside from that, Evers was a very good player for a very long time. He was an excellent defensive player, fast and as smart a player as you were likely to find.
H - 136
R - 65
2B - 17
3B - 6
HR - 1
RBI - 51
BB - 36
SB - 49 (5)
AVG - .255
OB% - .305
"A bundle of nerves and the smartest
brain in baseball" - Hugh Fullerton
JOE TINKER - SHORTSTOP
Tinker was a very good defensive shortstop. His offensive numbers are not eye-popping but he did contribute, being ninth in Runs Batted In. His best offensive years were still ahead of him.
Tinker's later years were not kind to him. His wife committed suicide on Christmas Day, 1923. Tinker later became rich in the Florida land-boom but lost most of that money in 1929. Later, he suffered from diabetes which resulted in a leg amputation.
H - 122
R - 75
2B - 18
3B - 4
HR - 1
RBI - 64 (9)
SB - 30
BB- 43
AVG - .233
OB% - .293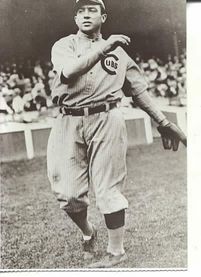 Joe Tinker
HARRY STEINFELDT - THIRD BASE
Steinfeldt was not fast, but he did have a good glove and a strong arm. While in Cincinnati, he gained a reputation as a difficult player. Chance convinced management to grab Steinfeldt in order to complete an already good infield. Chance had played with Steinfeldt in winter ball and believed his reputation was not deserved.
Chance proved right. Steinfeldt had a better offensive year than the famous Hall-of-Fame trio, Tinkers, Evers, Chance. Before starting his baseball career, Steinfeld worked for a traveling minstrel show.
H -
176
(1)
R - 81 (tied for 4th)
2B - 27 (tied for 4th)
3B - 10 (tied for 4th)
HR - 3 (8th)
RBI -
83
(tied for 1st)
SB - 29
BB - 47
AVG - .327 (2)
OB% - .395 (6)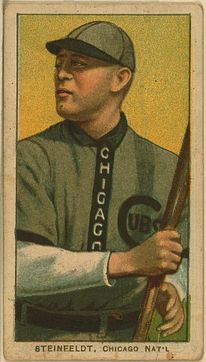 JOHNNY KLING - CATCHER
Kling was a fine defensive catcher with a very good arm. In the 1907 World Series Ty Cobb failed to get a stolen base against Kling and was thrown out twice. Kling's Runs, RBI's and Hits numbers look weak, but he compiled those numbers while playing in only 107 games.
H - 107
R - 45
2B - 15
3B - 8
HR - 2
RBI - 46
SB - 14
BB - 23
AVG - .312 (6)
OB% - .357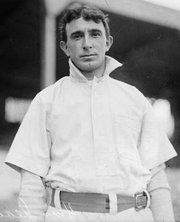 Catcher Johnny Kling
This wraps up Part II. Next time we'll look at the outfield.